ABOUT US
Finlam Automotive is one of Africa's largest, most diversified and technologically advanced Automotive Textile Laminator and Coater. Our aim is to build on our success and diversify further into the Automotive market. We value our customers, our suppliers, and our people and are committed to the responsibility of caring for our environment and building our local communities. Operating since 1979, we have become the preferred local JIT service provider and development partner to most OEM seating programs, both locally and internationally.

Our integrated lamination, coating and logistical services sets us apart from others and have differentiated us as a key Tier I & II player in the Automotive Supply Chain. With operating assets in excess of R100m our 5,500m² facility in New Germany, Kwazulu-Natal, boasts a production capacity of 45 000 lm per day, and have been successfully supplying the Automotive Industry for more than 20 years. Our modern, state-of-the art quality systems ensure that we are able to meet the stringent requirements of all Automotive programs and OEM specifications. We are DIN EN ISO 9001, TS16949 & ISO 14001 accredited as per the industry requirements and constantly strive towards further continuous improvement.

Our advanced technology systems enables us to efficiently support various segments of the Automotive Interior market, such as seat inserts, bolsters, head-rests, head-liners, door panels and arm-rests. On-going market development efforts currently affords further market diversification into the Auto Industry. We are further able to offer cost advantage to our customers due to the effective utilization of resources and capabilities. Our many years of experience, technological development and intellectual capital have defined us as market leaders in this field.

Since our humble beginnings in the early nineties we have constantly strived for greatness. In 2003 we were awarded our first quality assurance accreditation and have managed to upkeep them since. In 2005 Finlam Automotive, apart from being a Tier I supplier, also started supplying the Automotive Interior market as a Tier II global supplier, and in 2006 a Tier II local supplier. We have received the TBSA service delivery award in 2008 and 2009 as the best service provider for that year. In 2009 we were also awarded the cost award for best cost-down performance for fiscal VAVE activities. We currently have a BBBEE rating of level 5.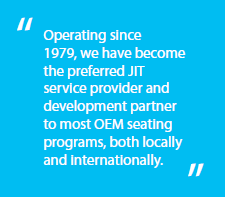 Enquiry Form >>